How to Deal with Psychic Vampires-Cutting Chords Meditation
In this post I am going to share with you some ideas that will teach you how to deal with psychic vampires.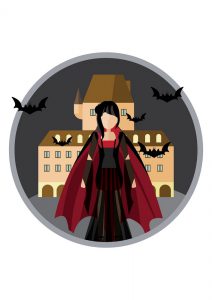 Such people are also called energy vampires because they feed on your positive energy you can find them everywhere-your house, workplace, parties, gyms, markets, shopping malls and wherever you go.
These type of people can come to you and suck your energy before you could even know, they not only drag you into a negative emotional state but they also affect your aura-unless you know how to consciously clear their affect by meditating or using any other spiritual method.
Who Are These People?
A simple definition of energy vampire would be-People who constantly dwell in extreme negative states and their energy is so contagious that they can affect anyone's aura within few seconds.
These people are the ones who have a very bad perspective about the world and they are highly driven by their ego. Due to the childhood programming or because of unfair events these people have developed a very bad picture of the world in their mind and they are finding evidences to validate it in every moment.
Unfortunately, these type of people are spiritually underdeveloped and they have totally forgotten their true nature. They have formed a very pitiful self image and they keep on feeding it by getting involved in destructive self talks.
Such people carry a very negative energy around them and they have the ability to pull others into destructive talks which in turn lowers other people's energy as well. Sometimes such people can affect your energy by just being present around you.
Few Ways to Detect Them
One of the common characteristics of such people is that they love to complain and talk about what is wrong with the world, they are very good at pulling others into such negative talks, they run away from any kind of good discussion or spiritual talks.
These lower energy people often make fun of spiritual people and such wisdom because they unconsciously fear such higher energies.
How to Protect Yourself from Negative Energy People?
Before thinking about safety we must first concentrate on recognizing such people, be aware of your energy and emotional state. Without even talking to them you can identify such lower energy people by keeping a watch on your feelings.
Whether let it be a place filled with lower vibrations or people with deleterious vibes, your feelings will tell you. Just move away from people or places where you feel bad…with NO exceptions, just discard what makes you unhappy!
You have the choice to keep yourself away from such people, even if it is not possible to avoid them you can still choose to be detached from their talks or you can keep your energy unaffected by consciously deciding to not participate with them in such talks. When your energy stays unaffected from theirs then they will automatically start to avoid you.
Cutting Chords Meditation
When I opted for Christie Marie Sheldon's love or above program I came to know that we all form unconscious energy chords with people whom we come in contact with, these chords affect our energy in accordance with the other person's emotional state.
This is the reason why energy vampires drains us energy wise, we unconsciously form chords with them which keeps our energy in a lower state.
Christie, in her course offers a meditation which is called as cutting chords meditation using which we can detach ourselves from such energy draining chords.
So, be sure to be in good company always because the quality of people you choose affects you in a much deeper level then what's visible and make sure to keep a distance from people who don't hold a good opinion about the world.
You can visit the love or above product page here about which I was talking in the above post, even if you don't decide to buy that product I recommend you to sign up and download the free energy breakthrough kit.
I hope you liked this post. I would love to hear your views about this so please do leave me a comment in the box below. (Your email id will be safe and hidden, you can even prefer your secondary email id for commenting)
You can also mail me at hari@zerotoinfinitude.com
If this post was helpful to you then please spread the word by sharing it on your online social networks.
You May Also Like to Read:-