The Secret of Deliberate Creation Program by Dr.Robert Anthony Review and Buying Advice
If you don't know Dr Robert Anthony then let me tell you that he has been an expert teacher of the law of attraction for more than 25 years, and he has successfully trained so many people all over the world to succeed in their lives using the tools that he offers.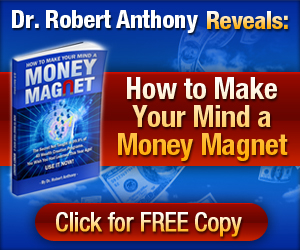 There are very few teachings like the one that Dr.Robert Anthony offers because he has so much experience in this field that he absolutely knows the right steps that unlike other programs doesn't only fills the information in the head of people, but gives them the concrete action steps to create the life of their desire.
What Is Different about This Course?
Now a days we find so many materials teaching the law of attraction where the content always revolve around things like setting the intention, positive thinking and allowing universe to deliver what is asked, this course however takes things to the next level by teaching the techniques that gives proper results.
What I like the most about this course is that the author makes us to apply the techniques to first manifest the whole cost of the course and that is to be done under the refund period; this actually means that the customer has nothing to lose if he follows the strategies properly!
Manifesting the cost of the course gives a person the confidence to apply the tools successfully to attract something better and to move further step by step.
Aligning Your Conscious Mind and Subconscious Mind
Alignment with your desire is the key to manifest it, you must have heard that before but people always get confused about the absolute meaning of the alignment.
Well, according to Dr.Robert Anthony alignment happens when a person's conscious mind's intention matches with his subconscious beliefs.
So, the strategies and tools that you will find in the secret of deliberate creation program will help you to clear the limiting barriers that exist in your subconscious mind which stops you from achieving your goals.
Setting an intention and thinking positively about it feels good initially, but when a person sees no result he gets frustrated and starts moving backwards because of the contrary feelings he gets about his desires. This happens due to the conflict between the intention in a person's conscious mind and what he believes subconsciously.
Once you will clear the barriers that were not allowing your conscious intent to be in harmony your subconscious beliefs using the techniques offered in the secret of deliberate creation program, you will start to see the results.
The secret of deliberate creation program comes with 6-hours step by step instruction, it is quite clear that with such an emphasis on instructions you will have to follow it properly in order to see the results, this program gives you a lot of action steps to follow.
Final Advice
I don't think anybody will regret opting for such a nice program, but if you are not very sure that you will be able to follow it properly then do give a second thought before buying it because programs like this needs a very strong participation of the buyers, mostly people buy personal development programs and expect things to happen automatically.
However, the secret of deliberate creation requires your strong active involvement to see good results.
For more information, please visit their product website here.
I hope you liked this post. I would love to hear your views about this so please do leave me a comment in the box below.
You can also send me your queries using the contact page.