Quantum Confidence with the Morry Method Review
The Morry Method has gained a lot of popularity recently because many people have found it more effective than other brainwave entrainment based techniques.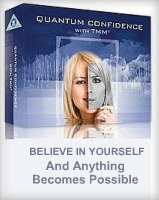 This method was also used in the quantum mind power program. Morry Zelcovitch is a certified brainwave audio engineer who has been in this field for more than two decades and he is constantly working to bring research based updated brainwave audio tracks, so I think he is more reliable than many others in this area.
The reason behind people's failure is often due to the lack of self-confidence. Confidence as it seems is not an external thing, it is what happens inside that gets reflected outside, and people with a weak self image can't gain confidence no matter how much experienced they become.
By understanding this factor Morry has created this brainwave-based product that will fill you up with the confidence that you need to achieve whatever goals you set in life.
Quantum confidence program works on the root cause of your self-image problem so that you get a winner like feeling whenever you make a decision, and this attitude will stay with you forever.
Inside the Package
The main materials of this program are as follows: –
Quantum Confidence Mp3s: –
These are a set of audio tracks that are designed to boost your confidence and it will act like a fuel when you go for your highest goals.
The above mentioned tracks are prepared by incorporating isochronic and monaural tones which are the latest advancement in the brainwave entrainment technology according to the makers.
They explain that these updated tones have uniform wave shapes that simulate brain more effectively than other tones. Using these audio tracks your brain is brought into the ideal state that is essential for your success.
Six Quantum Triliminals
They call it as the most powerful brain reprogramming method present today; it is based on the use of affirmations.
I do agree that positive affirmation can alter one's inner programming and make huge changes in their lives, but people often make a mistake of choosing wrong affirmations which doesn't work.
The author says that our left brain hemisphere accept a specific type of affirmations whereas our right brain hemisphere accept different types of affirmations, so keeping this in mind, he has prepared 6 audios that contain special kind of affirmations for six major purposes.
It is called triliminals because it is prepared using three sets of affirmations, first set works on your left brain hemisphere, second set works on your right brain hemisphere, whereas the third set is something that works on both at the same time.
While listening to these tracks you will also hear the Morry method audio in the background which makes these words to reach deep into your subconscious mind.
Bonus Items: – (These can vary with time, check the product website to know what they are offering right now)
Good Night Sleep Well – Audio for a deep sound sleep.
Shuman Resonance Meditation – A unique meditation audio.
Connection Listening Track
Final Advice
If you wanted to hear a lot of positive words about the binaural beats based programs, then this is probably not the right place for you because I don't recommend brainwave entrainment audios to people as I don't like them and I have explained the reason in this post-Harmful Effects of Binaural Beats.
My dislike for this technology is due to a few personal reasons, but some people find these audios extremely good, especially the Morry method based products.
Unlike the other audios, this program don't have any additional music in the background and I found that a little annoying. However while I was listening to these audios I experienced a slight change in my mind state.
Honestly, I do agree that the product changed my brain state, but I just used it for the review purpose, so from what I experienced and what people are saying about it, you will definitely find yourself going into a more relaxed state of mind while listening to these audio tracks.
That's all I can say about this product. Brainwave entrainment works in different ways for different people so you will have to try it for a long time to see if you get the results that they promise, but my advice for you would be to find better products for personal development that helps you to eliminate your subconscious mind beliefs using meditation, energy clearing or hypnosis based methods.
For more details, kindly visit their product website.
I hope you enjoyed this post, please share your opinions and experiences with the brainwave entrainment audios by commenting below, I would be very happy to hear from you. (Your email id will be safe and hidden, you can even prefer your secondary email id for commenting)
You can also mail me your queries at hari@zerotoinfinitude.com, I will be very happy to help you.
If this post was helpful to you then please spread the word by sharing it on your online social networks.
You May Also Like to Read: –